Additive manufacturing uses 3D printers to "print" streams of heated material, such as plastic and metal, to build layers that together make an object in three dimensions. This type of manufacturing offers a cost-effective and fast way of making structures and tools on-demand. 3D printing technology is particularly useful when considered for space missions, especially for human spaceflight operations. Bringing things to space is costly, so the possibility of creating things in space offers infinite possibilities.
These prospects using 3D printing to help repair satellites that are already in orbit and to create settlement habitats on the moon or Mars. Additive manufacturing can also encourage new forms of space architecture unlike the structures on Earth. This is because we are limited by the forces of gravity and the stresses that supplies undertake during the rocket's launch. We can use 3D printing to make more complicated shapes while preserving the strength of these structures, all while making production time cheaper and reducing costs.
The American company Made in Space sent the first 3D printer to the International Space Station in 2014, followed by a more advanced printer in 2016. The printer melts thermoplastic filament to create tools for the station (including the printing of ratchet wrench) and projects for commercial customers, such as sculptures and education tools. Because astronaut time on the station is very valuable, the machine can be remotely controlled from Earth and only requires the astronauts to collect the printed structure from the machine when complete. The company hopes to develop these services, more in the future by creating printers without a bottom that will allow for the printing of structures that are infinite in length. This will be of benefit because things that are printed will not require folding for launch to the station or future space habitats.
3D printing has also been used on Earth to build tings that will be used in space. For example, in May 2017 the American company RocketLab launched the Electron rocket from New Zealand that was powered by an engine made almost completely by 3D printing. The team says the engine was completed in 24 hours, and still holds the structural integrity of typical rocket engines.
Today, considerations for the application of additive manufacturing in micro-gravity in the space sector is largely mainly on the construction of structures and habitats on other celestial bodies, like the moon or Mars. NASA is currently holding its 3D-Printed Habitat Challenge, a $2.5 million competition to build a 3D-printed habitat for deep space exploration. Hoping to advance the technology required to develop housing solutions beyond Earth, this challenge has multiple phases. Phase 1 asked participants to develop new architectural concepts that harness 3-D printing capabilities. On-going currently is Phase 2, in which competitors are to demonstrate a recycling system that can create a structure using Earth and space-based materials and recyclables. The upcoming Phase 3 will focus on the construction and fabrication of complete habitats.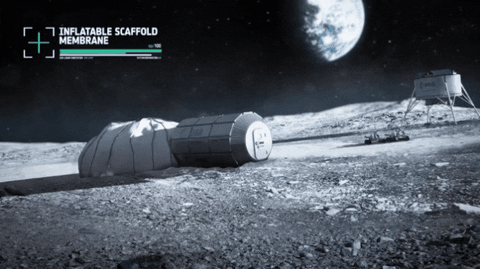 The European space sector's interest in a permanent base on the moon, or "moon village" has also drawn research and concept development for the use of 3D printing. Through the European Space Agency's (ESA) General Support Technology Programme, the German Aerospace Centre was contracted to develop a model for possible applications of this technology on the moon. The model used an additive manufacturing process, which applies 3D printing for human settlements using only resources that are found on the moon. To do this, a special machine would transform the lunar soil into a construction material, using only concentrated energy from the Sun. This lunar village concept has also inspired active discussions for the use of 3D printing by various industry professionals, including at the ESA's International Symposium on Moon 2020-2030 in 2015, which saw the gathering of hundreds of scientists, engineers and industry experts.
Cover image: ESA
Please reload